Featured: PetekDesign
Interview by: margotbianca

Tell us a bit about who you are and how you got where you are now.
My name is Efrat Elie. I am 31 years old, and I live in sunny Tel-Aviv (and loving it!) I have a B.A. in Visual Communication from Bezalel Academy of Arts and Design in Jerusalem.

I worked for many years as an art director in a leading Design studio in Israel, most of my works were in the fields of Branding and Package design, so I got used to seeing my works being displayed on the supermarket shelves.

After that I was approached by a premium pastry factory, and became their in-house designer, in-charge of all brand identity for both local and international brands: In Israel – "lachmi", and abroad – "Elsa's Story". My work there was very fulfilling, and every year I worked on new collections for Christmas and then Spring, including gift boxes sold at Costco, Walmart etc.

After 4 years I became an independent freelance designer. I always knew Etsy as a great place to find new exciting designs, and to get inspired by talented artists. When I got married (in 2008) I looked for some unique jewelry and accessories for the wedding day, and it was then that I started dreaming of having my own Etsy shop. It took me a while, but eventually I did it and opened my own shop called "Petek Design" (Petek in Hebrew meaning 'a piece of paper' or 'a note').


Do you have a job outside of selling the work we see here on etsy? if so, what is it?
In addition to selling my artwork at Etsy, I continue working as a freelance, on design projects for a variety of clients. This includes logo design, corporate brand identity, packaging, website design, and all graphic design aspects.

You can see some of my latest works here.

I feel really fortunate that I can now work from my cozy studio, next to the sea shore of Tel-Aviv, and I am my own manager, choosing my own projects, and setting my own working hours. This is really the best way to work :).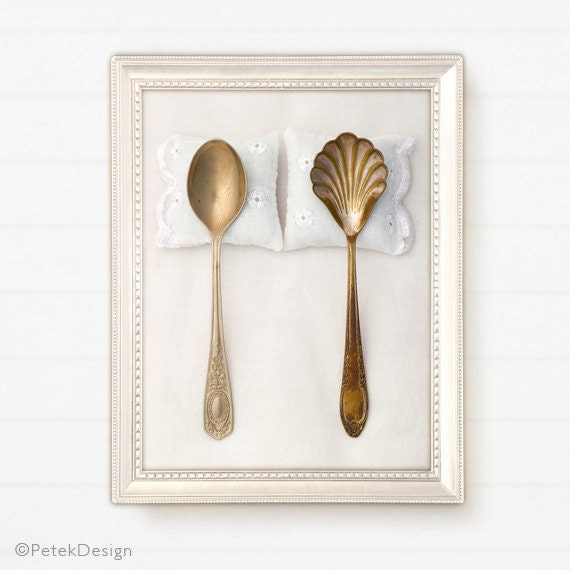 What is your favorite piece that you have in your shop right now? Why?
Well, I love all my artworks but if I really need to choose…My favorite piece is the new and recent Spooning collection – including fine art photographs of vintages spoons, lying on miniature pillows. See example.

This idea was developed from my previous graphic version posters of "spooning", after it became my most popular item.

The spoons I used are part of a collection I've started to collect during my trips with my husband all around Europe. The miniature pillows for the photo shoot were made especially for this project, by my dear friend from babytogo. For each couple of spoons we developed a special and unique "bed set". I then worked with my talented and dearest friends Arie & Yasmin Photographers. And so, all these good people believed in my idea, and helped my dream come true :)

Currently, I continue collecting vintage spoons, and my friends and family know what to get me when they travel at flea markets all around the world…


How do you find ideas for your work?
I find many ideas all around me - from everyday life and from everyday situations and conversations, strolling around in Tel-Aviv with "Lychee" (my puppy).

I also enjoy going to galleries and exhibitions all around the city, which has a surprisingly wide selection of design & art styles.

I have to admit that my best ideas were born in bed while I "blah-blah" to my hubby at night before going to sleep. He doesn't have any choice but to participate… and so together we come up with fun ideas and concepts, for my "Petek-Design" shop on Etsy.




We're at "the bottom of the hill" in terms of the holiday rush time, on Etsy. I'm wondering if you can share a few tips that you've learned about managing sales, taking care of customers and maximizing your season with us.
From my experience, there are several aspects which are always relevant, but especially relevant during the holiday rush season. First is the marketing aspect. I always try to think of fresh and original ideas for products. Though it's the same holiday, one should take the challenge and try to look at it differently every year. Be creative, be original, and if you can - add humor to the photos and texts in your listings. That way you can also enjoy the process.

As for the logistics aspect, one should be ready ahead of time with all the necessary stock and supplies (including packaging materials etc.). I also found it important to let customers know in advance that delivery times may be longer during the holiday season, and that I am always there for any questions or issues.


Do you have any long term goals for your shop in mind? Any changes or things that you are looking forward to in the coming new year?
My vision in not to be "the biggest" in what I do, but rather to be the most creative, to reach new audiences that will love and appreciate my work, and to feel satisfied and proud of my ideas. I also hope to continue visiting new and exciting places in the world, that will inspire me, and give me the energy and motivation for the future.




Visit Efrat's Etsy Shop!